Telefonica competitors ask Spain to intervene in fibre rollout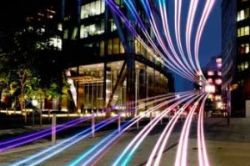 France Telecom - operating as Orange Espana - and Vodafone have asked Spain's telecoms watchdog to convince Telefonica to enter into negotiations over granting them access to its infrastructure, which they need to roll out fast broadband.
France Telecom and Vodafone announced in March they would team up to develop a fibre optic network that would bring superfast internet speeds to 6 million homes in Spain. But they need agreement from Telefonica to access connections into individual homes.
The 2 companies have failed to strike a deal with Europe's biggest telecoms operator in informal talks, and their chief executives in Spain said in March Telefonica had been closed to network sharing deals for reasons that were not clear to them.
A source at Vodafone said on Friday Telefonica had been unwilling to negotiate.
"We have asked the regulator to make Telefonica enter into immediate negotiations to reach an agreement before June 1, 2013 on reciprocal access to vertical fibre cables," the two companies said in a statement.
Both companies are struggling to compete with Telefonica's fibre network and as the market shifts to convergent offers bundling internet with other services, Vodafone in particular has come under pressure to acquire fixed assets in Europe.
In Spain, where one in four of the workforce is unemployed and mobile phone revenues are shrinking, operators face intense competition. Bundled "quadplay" packages are one way to retain customers, especially when faster speeds are offered.
A spokesman for Telefonica said the company was still willing to reach an agreement and would send a new proposal in the coming days.
Telefonica is the market leader in fibre optic in Spain, with a network reaching 2.2 million homes. France Telecom's own offering, separate to its deal with Vodafone, will reach close to 100,000 houses by the summer.