Boston Bombers : Links to Spain ?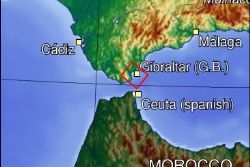 The fact that the alleged Boston attackers are Chechen might spark memories of Chechnya's struggle for independence against Russia. And of the many terrorist attacks Chechen extremists have staged against Russia over the years, including the 2004 school assault in Beslan. We're looking into to what degree Chechen extremists have acted outside Russia. But first we look to Spain. There, two Chechens and a Turk were arrested last year, charged with planning a terrorist attack, possibly on British enclave of Gibraltar.
Authorities say they think the three men had planned to attack Gibraltar during the London Olympics last summer. They say the suspects' idea was sort of like a mini version of 9/11. They all signed up for flying classes. Paragliding, to be specific. Police say they were seen puttering together at least once over the British enclave. One of them allegedly kept asking the flying instructor, how to take pictures of a Gibraltar shopping center from on high.
Police say they also found a video of one suspect flying a remote controlled aircraft that you can see dropping a package from the sky – proof, investigators said, of an imminent airborne attack.
When police finally moved in they found enough explosive material in one of the men's apartments to destroy a bus. Spain's Interior Minister, Jorge Fernandez, passed out medals of honor to his officers. He went on TV.
"This is one of the most important international breakthroughs against al-Qaeda," Fernandez told the nation. "Through our intelligence network we know these suspects were planning attacks in Spain and or other countries."
That intelligence network included France, Russia and the US, which sent investigators here to question the suspects in person, according to reports in several Spanish newspapers. (Friday a spokesman for the US Department of Justice Intelligence told The World the DOJ would not comment on the claims.) Spanish officials, however, said the Chechens had trained with extremist groups in Afghanistan.
But then about a month ago a Spanish judge set the suspects free. Sort of. The two Chechens were re-arrested leaving prison. The charge? Entering Spain without visas. The Turkish suspect is out on bail.
The judge cited a lack of evidence in freeing the men. The suspects may have had explosives, but so far investigators have not been able to definitively establish their target. Without one, it's tough to prove intent to commit terrorism in Spain.
Friday a spokeswoman for Spain's interior ministry would only say that the case is ongoing and classified, and that the Chechen men are still in custody. But Spain can only hold the men for 60 days on the immigration charges.
That is, for about another month. Then by law it must set them free. In the meantime Spain hopes it's found another solution: deporting the Chechens back to Russia.
Recommended Reading
• The World : Alledged Terrorist Plot Thwarted in Spain