Spanish household wealth increases in 2012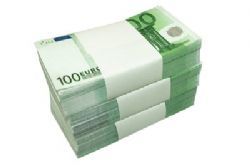 The Financial wealth of the Spanish residents - calculated as the difference between financial assets they have minus the amount of loans granted - increased by 5.98% from 2011 to 2012 to €49.517 billion, according to a Bank of Spain report yesterday.
This is due to the decrease of liabilities, as Spanish families got less into debt as a result of the economic crisis, which caused a lack of credit in the banking system, lower wages and a high unemployment rate.
The Bank of Spain said long and short-term loans decreased by €36.692 billion, which is a 4% decrease in comparison with 2011, while liabilities amounted to €903.236 billion in December 2012, a 3.5% decrease in comparison with the same month of 2011.
However, this increase in 2012 cannot hide the fact that since the crisis started, Spain's families lost €106.411 billion (from December 2007 to December 2012) which meant a 10.8% decrease of their wealth.
In 2006 Spanish families' wealth was €1,006.826 billion and 2 years later, it decreased to €741.828 billion due to the crisis and the bursting of the housing bubble.