Castellon Airport : No Opening Date in Sight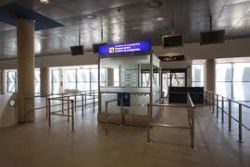 The President of the Generalitat Valenicana, Alberto Fabra, has gave an interview earlier this week where he commented that Castellón Airport will only open when it can be proved that there is a demand, in order to ensure that operational costs can be controlled.
In an interview with 'TVE Breakfast', which has featured the on-going saga at Castellon Aiport frequently over recent years, it was pointed out to Fabra that "we have not been given the truth, or a reason to be satisifed that there will be a positive outcome at Castellon Aiport".
Fabra replied that it therefore made perfect sense not to commit to any date until operating the facility at a profit can be assured.
The President went on to confirm that the Genralitat was negotiating with the Ministry of Development for approval for the airport to operate on a part-time basis to ensure that the region might benefit from some flights until such a time that it can be open on a full-time basis.
Notably, Fabra made no referrence to the status of the deal to 'sell' the airport to the Libyan-Spanish investment group interested in purchasing the facility.
Read further Castellon Airport news by clicking the link >> HERE <<.