Corvera Airport Still Requires Permission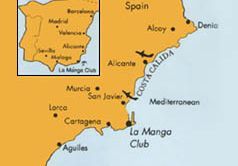 The Regional Minister of Public Works, Antonio Sevilla, has maintained that Corvera airport "could open if we wanted it to, as it has all necessary permits," however in order to do would require the closure of neighbouring San Javier Airport.
Sevilla added that the concession holder of Corvera Airport - Aeromur - should be the lead authority on any negotiations surrounding the issue.
However, it has also been revealed how the facility can not become operational before the completion of 2 further procedures : The European Commission is still required to approve the reclassification of Airspace surrounding the facility, as proposed by the Interministerial Committee for Defence and Development in December. Secondly, the Airport still requires receipt of the certification bt the Spanish Aviation Safety Agency (EASA).
Sevilla explained that Aeromur can apply for this certification, however, the procedure requires for AENA to confirm the names of workers to be transferred from San Javier to Corvera Airport, which is still pending.
Confusion still seems to surround the state of compensation negotiations between Aeromur and AENA, who are claiming €65 Mln for the closure of San Javier. Sevilla reiterated that the original contract for the operation of Corvera airport clearly stated that this would only be possible with the closure of the older airport, and nothing has change in this regard.
Sevilla also acknowledged the pressure that shareholders - including Sacyr - have been placing on Aeromur to open as soon as possible in light of the 200 Million Euro outstanding loan repayment obligations.
Recommended Reading
• Alicante Airport : 2 Fingers up to Corvera Airport ?
• Corvera's Sacyr bags a profit
• Corvera Airport : This Summer 'is lost'
• AENA v Corvera Airport