Castellon Airport is key to sustainable tourism in the province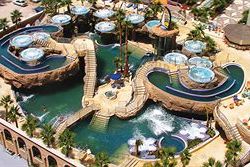 The owner of Valencia's Marina d'Or Golf Complex yesterday stressed the importance of the operation of Castellon airport in opening up tourism within the province to the rest of Europe.
Jesus Ger commented how it is vital to open the facility to attract European tourists, as without an airport it is a difficult task to get the Province's 168,000 hotel beds anywhere close to occupancy.
Ger said that the Marina d'Or Golf resort, which could finalize construction in 2015, will feature the "same benefits as Eurovegas", and with "more ambitious, exclusive hotels".
He also claimed that the development would sustain up to 30'000 direct and indirect jobs.
The Businessman confirmed that several tour operators had already expressed an interest in his project, but that the necessary bus journey to the resort from Reus, Valencia or Barcelona airports proved difficult to attract visitors.
Earlier last week the President of the Generalitat Valenciana confirmed that Castellon Airport would not become operational until it was proved that it could become economically viable.