Spain to announce budget plans this week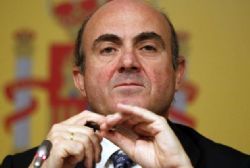 Spain's Minister for the Economy, Luis de Guindos, has told the press how European growth remains a key concern.
The Minister was speaking after a meeting of 20 EU Finance Ministers, where he had been hoping to negotiate a reduction in Spain's deficit targets over coming years.
The EU currently requires Spain to reduce its deficit to 3% of GDP by the end of 2014.
In 2012 EU officials gave Spain leeway on deficit reduction and have indicated they are prepared to do the same again this year. The Spanish government will present its new targets later this week.
This would allow Spain to slow its drive to ease of on austerity measures in hopes that it will ease the recession of one of the area's largest ailing economies. In recent months, troubles on Europe's periphery have been dragging down the broader region's economy. Under intense pressure from the EU and from international investors, the government cut its budget deficit to 7% of GDP last year from 9% a year earlier, but big spending cuts and tax increases exacted a high toll on the economy. The country's long-running downturn deepened and unemployment shot above 26%.
"What we are going to do now is a strike a better balance between deficit reduction and economic growth," Mr. de Guindos said, adding that last year's reduction has shored up confidence in the sustainability of Spain's finances. "The primary concern for institutional investors in Spain at the moment is economic growth," he said.
de Guindos also said deeper integration of European banking systems could help lift the region out of its economic slump.
The MInister also said how companies in countries like Spain and Italy have much higher borrowing costs than their peers in Northern Europe, compounding problems in the weaker economies. Though the ECB's lending programs and its promise to backstop the debt of fiscally frail countries have helped ease funding constraints, institutions in Southern Europe remain considerably more risk-averse than their northern peers.
This situation "would improve if there was a common treatment for banking problems," Mr. de Guindos said.
EU countries are preparing for a full-fledged banking union, which would include a new Europe-wide bank supervisor, resolution authority and deposit-guarantee program, though the process is advancing slowly amid disagreements among member states.
Later this week the Government of Spain will also provide further detail on its spending and revenue-raising plans for the next several years, however de Guindos said there won't be any "significant" new austerity measures and that the government maintains its commitment to at least in part reverse a 2012 income-tax increase. He said the force of measures to rein in pension spending and to raise value added taxes will be increasingly felt in the coming years while a return to economic growth will help boost tax revenues.
The Minister for Economy said the government expects Spanish GDP to shrink between 1% and 1.5% this year and then post "slight" growth next year.