IAG Wins Control of Spain's Vueling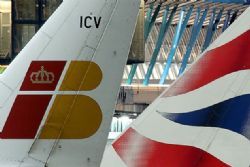 British Airways parent IAG acquired control of Spanish discount carrier Vueling Airlines for €123.5 million as Europe's 3rd largest airline group seeks to stem losses in Spain.
IAG, which already held a 45.85% stake in Barcelona- based Vueling, now owns 90.51% after the majority of remaining investors accepted its offer of €9.25 a share, the London-based company said today in a statement.
IAG had sought control of profitable Vueling after its Madrid-based Iberia unit pushed the company to a €23 million loss in 2012. CEO Willie Walsh said Vueling will remain a standalone unit under its own CEO, Alex Cruz, who will report directly to him rather than via Iberia, where more than 3,000 jobs are being cut to rein in costs.
"This is fantastic deal for IAG," said Donal O'Neill, an analyst at Goodbody Stockbrokers with a buy rating on the group. "It's a big opportunity for them to grow profitability in Spain while their mainline business is reducing capacity."
IAG shares rose as much as 3.9% and were trading 3.4% higher at 265.20 pence as of 12:36 p.m. in London, valuing the business at £4.92 billion.
IAG raised its offer from an initial €7 a share after that bid was rejected by the discount carrier's board. The revised proposal values the whole company at €277 million.
Vueling and Iberia will cooperate where possible, Walsh said earlier this month, though feeder flights for the larger carrier will continue to be provided by Iberia Express, set up in 2012 with non-fuel costs around 40% below its parent.
"We plan to retain Vueling's current business model and management structure and its strong base in Barcelona," Walsh said. "It will benefit from the group's financial strength."
The takeover does not require further antitrust review after Vueling's 2009 merger with Clickair, in which Iberia held a stake, brought it into the wider group. The deal should be completed by April 26, IAG said.