Spain's Recession Deepens in Q1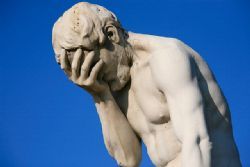 Spain's recession deepened in Q1, underscoring the government's newly pessimistic outlook, as weak demand kept housing prices on a long downward slide.
Data released Tuesday by the Bank of Spain showed the euro zone's 4th-largest economy had shrunk by 2% in the first quarter of 2013, compared to the same period a year earlier. The latest decline was slightly deeper than the one registered for Q4 of last year.
Spain is grappling with the collapse of a decadelong housing boom, which in late 2011 helped push the country into its 2nd recession in 3 years. The economy has continued to decline since then, as high consumer and corporate debt, soaring unemployment and tight financing conditions have limited private consumption and investment.
The country is one of several southern euro-zone economies mired in recession. Other examples include Portugal, Italy and Greece, all of which have implemented strict austerity measures to rein in government spending, as in Spain.
Finance Minister Luis de Guindos said over the weekend that Spain's government expects the economy to contract by 1% to 1.5% this year and to register a modest expansion next year.
The government previously had forecast 0.5% shrinkage in GDP for 2013. Mr. de Guindos said new budget plans to be outlined this week will emphasize growth rather than deficit reduction, as Europe's stance on austerity softens.
The Spanish central bank's first estimate of first-quarter performance showed the economy probably contracted 0.5% from the previous quarter. In Q4 of 2012, the economy had shrunk 0.8% from the previous quarter and 1.9% on an annual basis.
"We remain of the view that the Spanish economy is likely to continue shrinking for the rest of the year, albeit at a decelerating pace," Antonio García Pascual, economics analyst at Barclays, said in a note. Mr. Pascual said he expected growth to return in the first half of next year.
The central bank said domestic demand dropped 0.8% on the year in Q1, a slower pace than late last year when households were hit by a tax increase and the suppression of bonuses for public employees.
However, the bank said declining disposable income among families and uncertainty over employment, which exceeds 26%, left little room for a recovery in short-term consumption.
Companies and households are struggling with heavy debt, and the housing sector, which is at the core of the country's financial crisis, has continued to suffer because of that. Spain's public works ministry said the average price of housing in the first quarter fell 7.7% on the year.
The average price per square meter was €1,519, down 27.7% since Q1 of 2008, just before the housing boom went bust.
Moodys Investors Service predicted last month that house prices would continue to decline for at least another 5 years, as the market recoups from the tripling of new houses put up for sale between 2005 and 2009.
The central bank also reported some good news: Inflation moderated, with prices rising 2.4% in March on the year compared with 2.9% in December. And exports rose 0.3% on the year in Q1, continuing gains made in 2012.
The government's National Statistics Institute plans to release its economic performance data next Tuesday.