Rajoy opens door to new tax hikes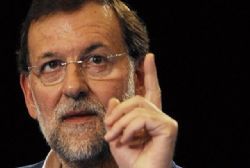 PM Mariano Rajoy today opened the door to new tax hikes and spending cuts in order to keep the country's public deficit in check if the economy deteriorates further.
Spain will publish on Friday updated economic forecasts as well as a new program of reforms for the next two years. The economy ministry said this week the economy would likely fall by 1 - 1.5% of the GDP, which compares to an earlier forecast of 0.5%.
"We will not announce spending cuts like those we put out last year although we will likely need to review some entries in the budget," Rajoy said at a joint press conference with Slovakian Prime Minister Robert Fico.
"We don't want to increase the Value Added Tax or the income tax this year, but we also depend on the growth rate and the deficit-cutting path for the next years," he also said.
As a debate over austerity rages in Europe, where economic growth is lagging the rest of the world, Spanish officials have repeatedly said that Rajoy's next package of economic measures will focus on stimulating business investment, rather than new taxes or spending cuts.
Spain announced a raft of tax hikes in 2011 and 2012 which the government had pledged to reverse in 2014 or earlier if the economic situation improved, something the European Commission said could send the country's deficit up again.
As Spain is seeking more time from Europe to cut its deficit below the EU ceiling of 3.0% of the economic output, it was not clear if Rajoy referred to making these tax hikes permanent or to new tax increases.