Bankia seen in profit despite economic woes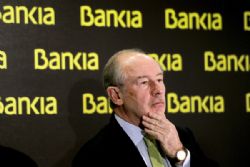 Spain's biggest bailed-out lender Bankia should show the first fruits of a painful clean-up later on Wednesday, when it is expected to post a return to profit even as bad debts stay high and a recession weighs on revenues.
Bankia, which came to symbolise Spain's banking crisis after making record €19.2 billion losses in 2012, will benefit from a relatively clean slate after transferring troubled real estate assets to a state-backed "bad bank".
Huge provisions booked against those soured loans and properties had gutted earnings, but Bankia should now post a first quarter net profit of €43 million after the market close, according to the averaged estimates of 3 analysts.
Many researchers stopped covering Bankia after a rescue with European funds that all but wiped out shareholders.
Those that still do cover it, however, project there is still trouble ahead for the bank while it copes with economic turmoil in Spain and tries to cling onto customers despite having to close over 1,000 branches and improve its battered image.
"We see the bank as having a major challenge in effectively keeping revenues at current levels while reducing the loan book by 30 percent and maintaining deposits - all this in a low- interest environment with rising non-performing loans," analysts at Nomura said in a note.
As is the case with most Spanish banks, Bankia's net interest margin - broadly the difference between loan income and payouts on deposits - is expected to have suffered in the first quarter.
Its non-performing loan ratio stood at 13% of its total book at the end of December, well above a sector average of 10.4%.
The lender never published first quarter results in 2012, when it was on the verge of a bailout, barely a year after it was listed on the stock market. It said net interest income was €640 million in Q4 of last year.
Bankia is still the target of public anger in Spain after its woes, stemming from real estate exposures that turned bad after a 2008 property crash, pushed the country to seek a €41-billion European rescue for ailing lenders.
The bailout caused hundreds of thousands of ordinary Spaniards who were sold the shares to lose money. Clients who bought preference shares, including many pensioners, will also lose up to 70% of their investments as part of the rescue, a move that is still sparking regular protests.
By Tuesday's close, Bankia shares had fallen 26% to €12.7 since its repriced stock began trading on Monday. The shares were revalued at 0.01 euros ahead of a €10.7-billion capital hike from European funds, and a reverse split then grouped 100 shares into one.