Vodafone Spain loses the plot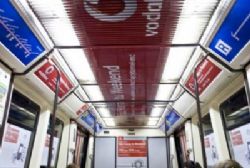 Vodafone Spain it is to sponsor the Madrid Metro in a deal worth €3m.
Not much of a dent in the €7.43 Bln debt owed by City by the end of 2012 ?
The agreement, announced yesterday by Ignacio González, president of the Community of Madrid, and Francisco Roman, the president of Vodafone Spain, means the red Metro Line 2 will be renamed the Line 2 Vodafone.
As part of the deal, mobile broadband will be added to Line 2 Vodafone later this year and the Sol Station in central Madrid will also be rebranded as the Vodafone Sol Station for 3 years from May.
The distinctive Vodafone logo will also be displayed at the entrance to all stations and platforms, inside trains, on the official Metro Map and on the Metro website and app with regards to the spensorship of the line.
Line 2 runs from Cuatro Caminos in the north of the city, to Las Rosas station in the West, has 20 stations and is used by an average of 122,000 daily users, according to Vodafone.
Although Samsung signed a month-long deal to rename the Sol Station the Sol Galaxy Note last year, this Vodafone deal is the first to run over a number of years, spanning across both a line and a station of the Metro.
Vodafone has been a victim of the on-going 'Mobile Phone War' in Spain, who together with Telefonica, have been losing market share to smaller providers, Orange and Yoigo.
Yet, despite announcing plans to cut 25% of their 4'300 Spanish workforce ealier this year, the provider obviously sees painting a few train carriages red at the cost of €3 Mln as the best way to win the loyalty of the Spanish people.