Spain energy companies profit, but is a price increase imminent ?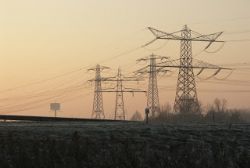 Spanish power grid operator Red Electrica posted on Friday a 6.8% rise in Q1 net profit to €149.6 million, in line with the company's target for annual profit growth of up to 8% over the next 5 years.
First-quarter earnings before interest, taxes, depreciation and amortisation (EBITDA) rose 5.3% to €358.3 million.
Similar news came earlier this week, with Iberdrola (Globally) being reported to have seen net profits of €879 Million in 2012.
However, this coincides with news yesterday that Spain's energy deficit level increased by 46% during 2012 to leave an energy debt of €5.6 Billion.
Whilst Spain's energy providers continue to profit from their share of the electricity bill, it seems inevitable that the Spanish Government will use this as justification to increase their portion of the average domestic energy bill, following a number of similar hikes throughout 2012.