Spain office of tourism reveal spend by nationality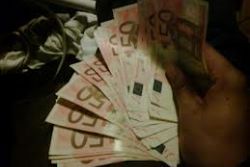 The National Tourism Office for Spain (Instituto de Estudios Turisticos) has published a report on the pages of their website which details tourist expenditure for 2013.
The data, which is compiled by the Nationality of each tourist, includes the amount of spend (in Euros) per person (Duration of visit) and per day for both both the entire month of March and for the first quarter of the year.
If visitor expenditure - as opposed to total visitor numbers - is to be considered the best inidcation of importance to the economy by nationality, then it seems that the British market is losing it's appeal.
The data also reveals an increasing level of growth from other Non-EU destination countries, such as Russia, China and India.
The National Tourism Tourism for Spain - Data Release
March 2013
Total Spending
Per Person
Daily Spend
EUR/Thousand
YoY
EUR
YoY
EUR
YoY
Total
3,726
13.7%
963
5.4%
110
5.1%
Country of Origin
Germany
667
13.4%
967
1.4%
95
2.8%
France
400
43.5%
641
16.5%
106
18.6%
Italy
129
-18.0%
640
1.1%
101
6.7%
Nordic Region
558
25.7%
1,272
10.5%
124
8.0%
U.K.
632
2.2%
819
1.6%
90
-0.5%
Rest of World
1,340
12.7%
1,174
4.5%
129
3.4%
 
 
Year to Date (26/04/13)
Total Spending
Per Person
Daily Spend
EUR/Thousand
YoY
EUR
YoY
EUR
YoY
Total
9,306
8.4%
991
6.0%
110
7.0%
Country of Origin
Germany
1,561
3.8%
1,017
0.1%
98
6.7%
France
960
33.1%
645
19.3%
102
20.8%
Italy
335
-24.0%
669
-4.3%
98
-5.8%
Nordic Region
1,374
19.1%
1,223
6.6%
124
7.1%
U.K.
1,526
3.5%
826
4.2%
90
5.6%
Rest of World
3,549
8.0%
1,226
6.8%
127
5.2%