Judge rejects Castellon Airport compensation claim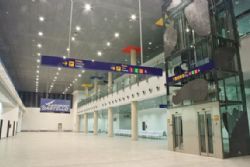 A Judge has rejected the claims of the Ayuntamiento of Vilanova d'Alcolea for the sum of €1 Million in compensation for the expropriation of land to build Castellon Airport.
The original agreement was signed with a the Mayor of a previous administration in 2002, where a parcel of 47'000 meters was purchased from the council for the sum of €54'000.
The current Mayor, Francisco Oller, representing Vilanova Agrupació Independent, has claimed that the land was not valued to reflect its intended commercial usage. As such the 2002 agreement was declared null by the current administration in 2011, with officials from the CJC agreeing that the procedure was unlawful due to the Mayor being unauthorised to sign the agreement, and with the paperwork being submitted late.
The High Court of Valencia has also heard how the Ayuntamiento of Vilanova d'Alcolea is also demanding the payment of of licence fees to permit the construction and operation of the airport, which Aerocas claims are not necessary due to the works being of "General Interest".
In this intance the court agreed that licence fees should not be paid as the council did not demand the suspension of any construction works, nor demand that work could not o ahead without the required permits.
Read further Castellon Airport news by clicking the link >> HERE <<.