BFA to invest €275 Mln on Bankia shares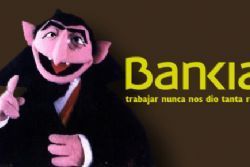 Spanish state-owned banking group BFA has pledged to spend up to €275 million on buying new shares to be issued by subsidiary lender Bankia next month.
Bankia, which came to symbolize Spain's banking crisis with billions of euros of losses, is issuing 11 billion new shares as part of a major recapitalisation plan. The new shares are due to begin trading on May 28 at €1.35 each.
"The objective of buying new Bankia shares is to raise our shareholding while providing liquidity in the market in the event of excessive sale orders or flow-back (when the new shares start trading)", BFA said in a regulatory filing.
Once a capital hike from EU funds is completed in the coming weeks BFA will have about 69% of Bankia.
The rest is mainly owned by hundreds of thousands of ordinary Spaniards who were persuaded to buy shares in Bankia's public flotation in 2011 following its creation from a merger of several local savings banks.
The lender, which posted a profit in Q1, has another four years to restructure and return to private hands.