Spain's economy Shrinks for 7th consecutive quarter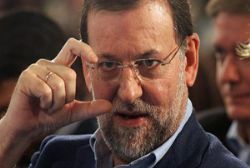 Spain fell deeper into recession in Q1 of 2013, the 7th straight quarter it has seen its economy shrink, data showed on Tuesday.
Rising exports and weaker imports, reported separately, provided some relief by cutting the trade deficit.
The data showing further contraction will add to a Europe-wide debate about whether countries should tone down austerity programmes intended to cut debt in favour of more growth-focussed policies, particularly given concern about rising unemployment.
Euro zone member Spain's jobless rate is 27.2%.
The National Statistics Institute said Spain's GDP contracted - on a preliminary reading - 0.5% in Q1 from the last 3 months of 2012, mainly because of sliding domestic demand.
The government, nonetheless, said the worst of the slump has passed and expects quarterly growth before the end of this year mostly because the country has become more competitive and exports are growing.
"All the indicators which look forward in Spain point to recovery, and a much better economy than one year ago," Economy Minister Luis de Guindos said in a radio interview on Tuesday.
A 4.4% increase in exports in February and an 8.2% slide in imports, helped slash Spain's current account deficit to Ä1.3 billion, less than a quarter than that reported a year earlier.
Exports have been the only pillar of support for the sagging economy since 2008 when a property bubble burst, gutting consumer and business confidence and hitting debt.
The Spanish government slashed its economic forecasts for this year on Friday, bringing expectations closer to consensus, though did not announce any significant updates to its reform plan designed to restart the economy.
"We recognise the reforms of the government have been significant, but the problem is the starting position of the Spanish economy was much worse than any other European economies and adjusting in this environment is a lengthy process," said Silvio Peruzzo, an analyst at Nomura.
Nomura sees the recession continuing into 2014 before staging a modest recovery and Peruzzo warned Spanish export growth could be hurt by a weak global economy.
Spain, the euro zone's fourth largest economy, has been on the front line of the bloc's debt crisis because it has one of the region's highest public deficits.
This has prompted Madrid to pass a series of unpopular austerity measures that critics say has hobbled recovery.
On Friday, Brussels gave Madrid the green light to raise its 2013 deficit target to 6.3% of GDP from a previous goal of 4.5%.
Spain's economy shrank 2% on an annual basis in Q1, worse than the 1.9% registered in Q4 of 2012.