Banco NovaCaixa Galicia sees €8.2 bln loss in 2012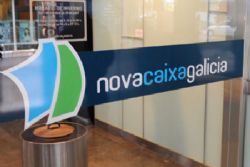 Spain's nationalised lender NCG Banco on Tuesday posted an €8-billion loss for 2012 after booking provisions worth €8.2 billion to cover bad investments in real estate assets.
The bank is currently 1 of 4 controlled by the Spanish state and last year received a cash injection of €5.4 billion in European funds, following earlier state aid measures worth around €4.6 billion.
Since then, it has transferred €5 billion of toxic property assets into Spain's "bad bank" and taken off its balance sheet smaller lender Banco Gallego, which the country's bank restructuring fund sold this month to bigger bank Sabadell .
Those actions helped NCG Banco boost its net interest income, a key measure for banks representing the difference between earnings on loans and payouts on deposits, by 7.2% to €724 million.
The Spanish authorities, who are mulling operating NCG Banco through a common holding with other nationalised lenders Bankia , CatalunyaBanc and Banco Mare Nostrum, have until 2017 to sell the bank under European state aid rules.