Spain to need 2 Mln skilled workers by 2020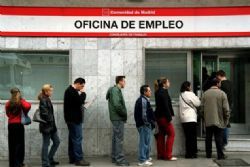 Spain will require around 1.9 million professional and skilled workers by the 2020, according to data published earlier today by Randstad Spain, with the recruitment agency expecting to see the country with a shortage of 4 million jobs by the end of the decade.
The report states that by 2020 2.1 million new workers will have entered the employment market, half a million of unemployed skilled workers will have reintegrated into the job market while at the same around 540,000 are forecast to have retired by that time.
This will lead to significant mismatches in the labour market, the staffing firm warned, as nearly two million skilled jobs will be left unfilled by 2020.
The report goes on to say how demographic changes will also cause discrepancies in some sectors where there will be more workers available than jobs while others will suffer from clear shortages. It estimates that there will be too many workers in the manufacturing and construction sectors, compared to the level of available jobs. Meanwhile trade and business services will be short of skilled staff with demand not matching supply.
The report also estimates there will be 35 million unfilled jobs in Europe by 2050. These disproportions will be caused by economic cycles, the constant creation and destruction of jobs, disparities between the educational levels of workers, changes in work requirements and technology.