Spain's auto sales spur recovery hopes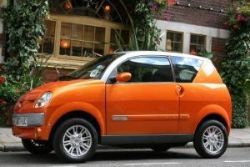 Car sales rose in Germany and Spain last month, industry data showed on Friday, adding to signs that Europe's austerity-driven auto slump could soon bottom out.
Spanish car sales jumped 11%, partly due to holiday timing and government incentives.
Registrations in Germany, the region's biggest market, advanced 3.8% for the first gain in 6 months - and the biggest since December 2011.
The improved numbers built on French data showing the decline in the3rd -ranked market slowing to 5.2% from a 16% fall in March.
Europe's debt crisis, belt-tightening response and record unemployment have resulted in the longest, deepest auto slump in recent history.
With demand near a two-decade low and losses mounting, mass automakers are searching for signs that this 6th year of market contraction will be the last.
Many have based survival plans on a decline no bigger than 5% for 2013, helped by easier comparisons with a weak second half of 2012. Q1 sales were down 9.7%.
"We've fallen so far that you'd think we'd hit bottom, and there are signs we're starting to stabilise," said Nicolas Lopez, head of research at Madrid-based brokerage M&G Valores.
"Don't expect sales to suddenly rise, but it's hard to fall much further" he added.
In Spain, the year-on-year comparison was flattered by an increased number of sales days, because Easter fell in April in 2012 and in March this year. Sales incentives introduced by Madrid in February also helped.
The Spanish uptick helped Volkswagen, which posted gains of 32% for its namesake brand and 47% for the locally manufactured Seat brand.
Fiat rose 31% and General Motors' Opel was up 23%.
ITALY WORSE BUT THERE IS HOPE
Worse off was Italy, one of Europe's hardest hit auto markets, where the rate of decline more than doubled to 11 percent as political uncertainty hurt sentiment.
But fears of a sustained German slide abated in April.
A year-on-year gain to 284,000 German registrations confounded Morgan Stanley's expectation of a 7% drop, analyst Stuart Pearson said in a note.
"This marks the highest selling rate since last August and will ease fears that have built around the market," he said.
Germany's VDIK industry group sees "growing signs that consumer confidence is firming up", a spokesman said. "This could mark the beginning of a long-awaited stabilisation."
Even in Italy, where an April 30 confidence vote in new PM Enrico Letta filled a 2-month political vacuum left by parliamentary elections, some believe underlying demand is building.
"The end of this exasperating political crisis could mean a return to optimism," said Gian Primo Quagliano, head of the Centro Studi Promotor automotive research institute. "We're seeing a glimmer of recovery."