Spanish Unemployment peak "In Sight" : Fitch's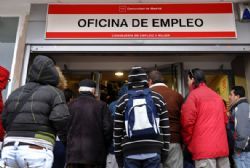 Spain's unemployment rate is likely to average 27.5% this year and next, peaking at 28.5% in Q1 of 2014, but the lagging impact on the housing market means mortgage delinquencies will continue to rise beyond then, according to Fitch Ratings.
The depth of the Spanish recession means unemployment is increasingly affecting 30-50 year old, higher-educated nationals on permanent contracts, who are far more likely to own a house. The jump in the percentage of households with no employed adults to 16% last year from 14% in 2011 also makes delinquencies more likely, although Spain is less of an outlier on this measure.
Increasing long-term joblessness (12% of the workforce has been out of work for a year or more) will also feed through to mortgage delinquencies because contributory unemployment benefits expire after 2 years. The number of people receiving such benefits has plateaued over the past 2 years as the long-term unemployed lose these rights.
However, we expect unemployment to stabilise below 30% next year as government measures to support employment take effect and output contraction comes to an end. A material fall in real wages, which is likely to be partly attributable to the government's wage-setting reforms, should also tilt the economy towards labour retention. An increase in foreign investment, such as the recently announced initiative to promote German investment in Spanish SMEs, could also provide some support to employment, provided the inflows are significant.
Spain's National Reform Programme outlines the government's strategy to tackle unemployment. Although there is still no sign of a single contract to tackle labour market duality, the outlined measures should - if effectively implemented - help increase labour participation and lower the structural rate of unemployment over the long term. Meanwhile, some provisions, such as a reduction in employers' social security for hiring young workers, are intended to tackle the current high unemployment rate.
The slow pace of household deleveraging means Spanish homeowners will remain exposed to worsening economic conditions for longer than homeowners in other markets that experienced a housing boom, such as the US and UK. In Spain household indebtedness was 133% of disposable income in 2012, down just 7 percentage points from the peak compared with an average drop of 26 percentage points from peak levels in the UK and US.