Castellon Airport : What about the supporting infrastructure ?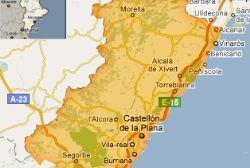 Earlier on this week it was reported in the Spanish Press how the recommendations of the Spanish Aviation Safety Authority (EASA) may force the opening of Castellon Airport to be delayed to October at the soonest.
This follows a positive report from AENA resulting from the test and calibration flights held at the facility during February.
AENA also confirmed that the 2'700 mt runway was suitable for aircraft to take off and land, and that a 10km airspace around the airport had been approved for various approach patterns.
However, one thing that is clear is that, whilst the aiport itself has been formally apporved, the infrastructure surrounding the facility is far from acceptable.
The approach roads surrounding the airport at Vilanova d'Alcolea are reported to have deteriorated in condition since the facility 'first opened' in March 2011. Furthermore, the distance of the airport from major centres of population, together with the lack of train connection nearby, and the need for bus routes and taxi companies to serve the airport is still to be addressed.
Read further Castellon Airport news by clicking the link >> HERE <<.