Spain announces new airline routes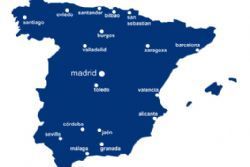 A number of new seasonal domestic and international flights to and from Spain and the Spanish Islands have been established this week as AENA's network of Airports prepares for the arrival of tourists as the summer season approaches.
Just some of these flights include the following
(However, if visitors are aware of further routes please feel free to add to the "comment" section at the foot of the page) :
* Malaga-Cost del Sol to the North African enclave of Melilla will see 6 flights per week, operated by Smart Wings.
* Mahon Airport in Menorca will see the creation of 2 flights per week to Leeds Airport via Monarch Airlines.
*Palma de Mallorca Son San Juan Airport will see further flights to Karlsruhe, Germany (5 per week, via Germania Airlines), and Bremen, Germany (4 per week, via Hamburg Airways). The Airport will also see Thomas Cook operate 2 flights per week to Bergen, Norway, and Austrian Airlines operate 3 flights per week to Vienna.
* Barcelona El Prat Airport will see a total of 4 new routes being created : Oran, (twice per week via Vueling), Kirstiansad, Norway (twice per week via Nordwind), Leeds, UK (twice per week via Monarch) and St Petersburg, Russia (twice per week via FlyNonStop).
Canada's Air Transat yesterday also confirmed the re-establishment of 3 weekly flights to Toronto, which will connect to other continental flights in North America.
* Girona Airport will see the creation of flights to the Uk's East Midland Airport (twice per week through Ryanair), and to Belgium's Vilobí d'Onyar Airport (twice per week via FlyJetAir), whilst Thompsons will introduce twice-weekly flights to both Gatwick and Manchester Airports.
* Reus Airport will see the creation of twice-weekly flights to Glasgow via FlyBe.
Despite numerous promises last year, Castellon and Corvera Airports marked the occasion by their silence on the matter.