Spain Airport Parking Companies Continue to Break the Law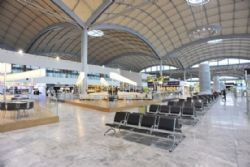 One year to the week after it was reported how 25 of the 29 Car Parking Companies operation at Alicante's El Altet Airport were doing so illegally, the Provincial Government is still to report on what - if any - action is to be taken against such companies.
Although the majority of the businesses in question were paying the appropriate taxes, and insured accordingly, it was revealed how just 15% of the companies in question held the correct licence to operate, as issued by the Town Hall.
Click >> HERE << to read the original News article.
Licensing conditions for Airport Parking companies, as laid down by the Ayuntamiento of Elche, include any such business being required to have premises of at least 5'000 meters, with 25% of the area being allocated to a hedge perimeter (to include Palm trees). The licence holder must also then report to the Civil Aviation Agency, The Ministry of public Works and the local Ayuntamiento regarding the on-going services provided between their parking area and the airport.
It is perhaps an all-too typical story of bureaucracy in Spain and the small business owner : What incentive is there to abide by the law, when those who blatantly flout it continually go unpunished ?