UK's Minister for Europe sweeps aside Gibraltars concerns over Spain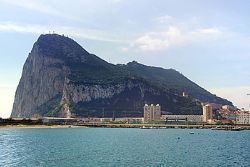 The UK's Minister for Europe has warned that increasing tensions with Spain concerning Gibraltar could damage the interest of the UK in the longer term.
Despite recent incurison into Gibraltar waters by the Spanish authorities, David Liddington warned that any response to these events must be measured and "proportionate", as they are not "a threat to the Sovereignty of Gibraltar."
The Minister was writing to the spokesman for "The Voice of Gibraltar", seemingly playing down Spain's hightened interest in venturing into the territorial waters surrounding the rock "This does not constitute an invasion", he wrote.
However, whilst seemingly not wishing to involve himself or the UK Government in the issue, Lidington reminded the group that he had made a strong public statement in July 2012 after the Guardia Civil detained two local men in British waters and took them to Algeciras.
The Voice of Gibraltar Group said it had written to Foreign Secretary, William Hague to express its concerns and frustration at the fact that, despite diplomatic protests, Spain was not taking the UK's complaints seriously and continued with its unlawful incursions.
"We received a reply from David Lidington which can be summarised as 'more of the same'," the group said in a statement.