Castellon tourists spend €39 Mln in Q1 - Without an Airport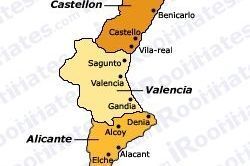 The Ministry for Tourism has reported how foreign tourists visiting the province of Castellon €39 million during the first quarter of 2013.
In percentage terms, this represents a 31% growth on the same period last year, and way ahead of the similar growth reported for the same period by Alicante (the Province, up 24% with €540 Mln), Benidorm (19.5%), Valencia (the Province, 3.5%). Figures for the City of Valencia revealed a fall of 0.1%.
However, in 2013 the traditionally busy Easter period fell in the first quarter of the year, whereas in 2012 it fell in the second.
And whilst Aerocas have been quick to seize this opportunity to justify the need for a dedicated airport for Castellon, they have obviously not considered the part of the Ministry report which notes that more than two-thirds of all visitors were from France, and as such arrived by car.