Spain's unemployment falls in April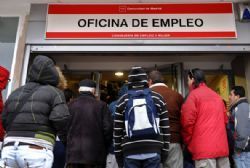 The number of registered unemployed in Spain fell by 0.91% between March and April of this year, representing a total of 46'050 people in real terms.
The data published this morning by the Ministry of Labour in Madrid revealed how this still left 5 million unemployed.
The National Statistics Institute (INE) quarterly survey on unemployment, which polls registered and non-registered unemployed, showed that 27%, or 6.2 million people, were out of work at the end of the first quarter of the year.