Corvera's Sacyr bags overseas contract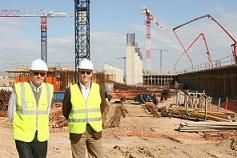 The developer of Murcia's Corvera Airport - SACYR - has announced they have won a major infrastructure project overseas.
Sacyr Construccion - the subsidiary company of the majority shareholder behind Corvera Airport's Aeromur - said today how they have won a €70 Mln project to build a number of motorways in Qatar.
Sacyr, who report that 80% of their revenue is now generated from outside of Spain, has reported that the project will be completed within just 15 months.
Odd, that their project at Corvera Airport is currently 2 years overdue, with little sign of the facility becoming operational in the near future.
Recommended Reading
• Corvera Airport bags a profit
• Regional Politician questions Corvera and Paramount
• Spanish Court wants 8 Business Leaders in Court
• Spain : 6 Months of Lies and Bullshit