Tax Hikes "Essential" : Rajoy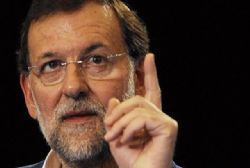 Mariano Rajoy today defended himself from criticism within the ranks of his own ruling Popular Party saying there was no other way of avoiding a full-blown bailout than to renege on the PP's electoral promise not to raise taxes.
"We didn't want to raise taxes but last year Spain was on the point of coming unstuck, and a policy of increasing revenues was absolutely necessary," said PP secretary general María Dolores de Cospedal, paraphrasing Rajoy's words after the prime minister had met with party barons. "When the government can, it will lower taxes. But the priority was to avoid intervention," Cospedal added.
Earlier this month, former Madrid regional premier Esperanza Aguirre - who still carries significant clout within the PP, particularly among more radical factions - called on the government to lower taxes and go even further in spending cuts by slimming down the public administrations. Rajoy put the emphasis on heeding needs dictated by circumstances, responsibility and solidarity, suggesting he is encamped in the middle ground.
At Monday's meeting of the PP's national executive committee, Rajoy and Finance Minister Cristóbal Montoro tried to explain to Aguirre that the rationale behind the tax hikes was to raise two billion euros.
Muted criticism of Rajoy's tendency to avoid facing questions at open news conferences came from the PP premier of Galicia, Alberto Núñez Feijóo, who did not attend the executive committee meeting. "I think the government has been lacking in explanations during this crisis period," Feijóo said on Monday. "All politicians complain about not being understood. You have to make a bigger effort for them to understand you," he added.