Spanish court calls top bank chairmen in Bankia probe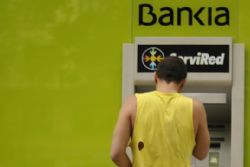 A Spanish court has called the chairmen of the country's top three banks to testify as witnesses in an investigation into the 2011 initial public offering of lender Bankia, which later had to be bailed out by the taxpayer.
Santander chairman Emilio Botin, BBVA chairman Francisco Gonzalez, and Caixabank chairman Isidro Faine are due to appear in court on May 24, a High Court spokeswoman said on Wednesday.
A small Spanish political party forced Spain's High Court to open an investigation last year into whether former Bankia chairman, Rodrigo Rato, and 32 other former board members of Bankia and its parent company BFA are guilty of fraud, price-fixing or falsifying accounts.
The court spokeswoman could not say what the 3 bank chairmen were to be questioned about. No one at Santander or CaixaBank were immediately available for comment. BBVA declined to comment.
Press reports said the questioning was likely to revolve around a meeting shortly before Rato's resignation in May 2012, when Economy Minister Luis de Guindos called Rato and the heads of the country's three biggest lenders to a meeting.
During the meeting, de Guindos asked Rato to make BBVA executive Jose Ignacio Goirigolzarri Bankia's chief executive officer, effectively undermining Rato's power.
De Guindos, former chairman Rato, current Bankia chairman Goirigolzarri and the former and current governors of the Bank of Spain have also been called as witnesses in the investigation.
The investigating magistrate on the case, Fernando Andreu, has so far not brought formal charges against anyone and may still drop the case.