Spain coastal law revamp sparks fears of new construction wave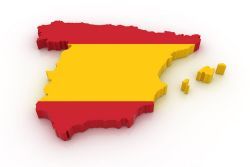 A Spanish law allowing some construction to take place closer to the coast was approved by parliament on Thursday, raising alarm among ecologists and opposition parties who say the change could further blight the Mediterranean shoreline.
The new rules, which replace a stricter but oft-flouted law from the 1980s, reduce the area where construction is completely banned from 100 to 20 metres from the coastline, with building to be allowed in exceptional cases in the 80 metres in between.
Spain's ruling PP, which passed the law thanks to its majority in parliament, has argued it would give greater security to thousands of homeowners, including many foreigners, who might otherwise have lost their houses because they were in previously illegal areas or had invalid licences.
A property boom from the mid-1990s led to an explosion in holiday homes, hotels and resorts, especially along Spain's sunny eastern and southern coast, until the market crashed in 2008 and many indebted developers went bust.
That collapse left banks saddled with properties whose value is still falling, eventually leading Spain to request a €41 billion European rescue last year for its weakest lenders.
During the boom, coastal protection laws were often flouted, with some local governments turning a blind eye as new buildings cropped up closer than 100 metres from the shore, or handing out construction licences that turned out to be invalid.
Spain's government said the updated law would not promote new contruction in those areas, but would, for example, allow owners of 125,000 properties near the shoreline to repair them, when they previously could not.
"There will not be new construction, hotels can be modernized ... but without gaining in height, volume or size," Spanish environment minister Miguel Arias Canete said.
But the rules, which ban new construction in areas like virgin beaches where there are no buildings now, do have some exceptions, especially where buildings are already present. In those cases, more construction can sometimes be carried out as close as 20 metres from the shore, as long as the environment ministry does not object.
Critics said this would make it easier for cash-strapped local governments to push through fresh construction projects, which could be damaging for the environment as well as the economy.
"In our country we should have learned by now that by accumulating property we do not generate prosperity in a correct or lasting way," former socialist environment minister Cristina Narbona said.
Pilar Marcos, a Greenpeace representative in charge of coastal issues, said the new rules had been designed to "get around the hurdles that were preventing new construction."
The European Parliament has criticised Spanish property laws several times in the past and in 2009 it blasted the "endemic corruption" in a report on the country's real estate market.