IAG Q1 losses grow to €278 mln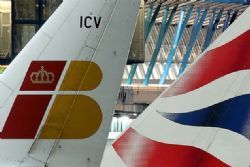 International Airlines Group reported a first-quarter operating loss of €278 million as continued weakness at its Spanish carrier Iberia wiped out British Airways' profits.
IAG, Europe's third-biggest airline group by market value, said on Friday the loss, was worse than the €249 million loss reported a year ago and was above the average €230 million loss forecast by analysts.
Revenues rose 0.5% to €3.94 billion.
Iberia, Europe's biggest carrier to Latin America, has been battling competition from low-cost airlines and high-speed trains, labour disputes and Spain's deep economic crisis and bleeding cash as revenue fails to cover high operating costs.
IAG said it took a €311 million charge in the quarter relating to restructuring at Iberia.
It said BA delivered growth in the quarter, boosted by business and first-class traffic, especially on transatlantic routes.
Tour operators and airlines generally report losses in their traditionally weaker first half of the year and make the bulk of their profits over the summer months.