Castellon Airport : Negotiations NOT ongoing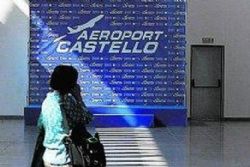 In a breathtaking display of what we undertsand to be popularly referred to as "the bleeding obvious", the Vice President of the Generaltat Valenciana, Josť Ciscar, has commented that the sale of Castellon Airport will not be negotiated with those who do not have the means to finance the purchase.
Ciscar, who is also directly responsible for the operation of the Airport following last month's resignantion of the former President of Aerocas, Carlos Fabra, told the Corts that the Hispano-Libyann investment group aligned with purchase must still provide proof of this.
He also confirmed that negotiations were not currently ongoing, and that any further offers to buy the airport "would be considered upon proof of having the required financial means".
Read all the latest Castellon Airport news by clicking the link >> HERE <<.