San Javier v Corvera : Confusion Continues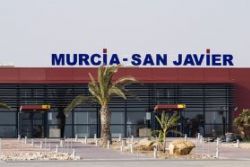 The Spanish Airports Authority - AENA - and the Management of Murcia's San Javier airport are continuing to operate, oblivious to whatever the owners of Corvera Airport may or may not have in store.
Passenger number at the smaller publically owned airport have continued to decline year-on-year since their 2007 peak of 2 Million, despite a second runway being opened just 2 years ago.
By 2012 passenger numbers had fallen to 1'181'000 - almost half the level seen in 2007.
Aeromur - the owners of Corvera Airport - are pressing AENA to close San Javier Airport and transfer operations to Corvera Airport without further delay. The Regional Government of Murcia is also supporting this move, more than likely as the speedy opening of the new airport represents their best chances of seeing the 200 Million euros loan being repaid.
However, AENA and San Javier are showing little sign of playing ball. Late last year the Airport was included in a parcel of auctioned Duty Free franchises, and elsewhere, for the Air Traffic Control operation. Just last week a new route from San Javier to Prague was announced.
Surely this - together with the lack of any meaningful statement by Aeromur - will only add to speculation that San Javier Airport will not close, and that Corvera Airport will not open ?
Recommended Reading
• Corvera Airport : Will San Javier Ever Close ?
• AENA v Corvera Airport
• San Javier Airport WILL close for Corvera : Valcarcel
• Alicante Airport : Two fingers up to Corvera ?