Alicante Airport Traffic Jumps in April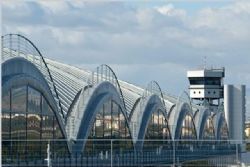 Recent figures released by AENA has revealed how the number of flight to Alicante's El Altet Airport increased by 10.1% in April, compared to April 2012. Passenger numbers from the UK alone increased by 7% over the same period.
However, the largest growth came from the Scandinavian countries, with a 36.3% increase in passengers from Norway; 33.4% from Sweden and 79.1% from Denmark.
A total of 827,764 passengers flew through the airport on 6,055 flights during April 2013.
As far as the first quarter of the year was concerned 2,324,716 passed through the airport, increasing 3.2% more than the same period last year, with the number of operations increasing by 1.0%.
By passenger nationality, the month of April saw 375 937 passengers from the UK (+7%); 100,786 domestic passengers (-19.5%); 55,253 from Germany (+11.2%); 52,154 from Norway (+36.3%); 51,459 passengers from the Netherlands (+26.6%); Sweden with 35,861 passengers (+33.4%) and Denmark with 16,482 passengers (+79.1%).
As far as the number of flights are concerned 2,537 operations came from the UK (+10.9%); 911 domestic operations (-18.3%); 407 flights to Norway (+52.4%); 365 flights to Germany (+17.7%); 350 flights to the Netherlands (+23.2%); 257 flights to Sweden (+49.4%) and 129 flights to Denmark representing an 111.5% increase.