Corvera Airport owners suffering amid recession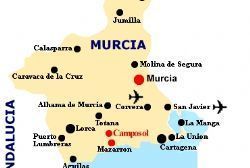 A prolonged recession in Spain took its toll on Q1 profit at Sacyr Vallehermoso , which posted a decline in underlying earnings at its core construction, services and concessions business.
Sacyr is also the 60% majority shareholder in Aeromur - the concession holder and owner of Murcia's Corvera Airport - which is currently repaying loans of some €200 Million, despite there being no date of opening as yet announced.
Earnings before interest, taxes, depreciation and amortisation (EBITDA) came in at €121 million, down from €135 million in Q1 of 2012, the company reported on Monday.
However, at the bottom line, Sacyr swung to a net profit of €30 million in the first quarter thanks to asset sales. That followed an annual net loss of €978 million in 2012 due to the write down of the value of its 9.5% stake in Spanish oil major Repsol.
Sacyr said it made an additional Q1 adjustment of €33 million against its Repsol stake, which it bought at the height of an economic boom. The company took on significant debt to make the Repsol purchase.
It made some progress on reducing debt in the quarter thanks to asset sales, with net borrowings falling to €8.6 billion at end-March from €8.7 billion at the end of 2012.
Recommended Reading
• Corvera Airport bags a profit
• Regional Politician questions Corvera and Paramount
• Spanish Court wants 8 Business Leaders in Court
• Spain : 6 Months of Lies and Bullshit