10'000 Jobseeking Spaniards move to Greece in 2012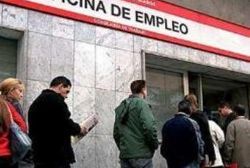 A report published by Spain's National Institute of Statistics (INE) yesterday revealed how a minimum of 176'000 jobseeking Spaniards between the ages of 35-44 have left their country since the start of the protracted financial crisis.
The study went on to state how the majority moved to either the UK or Spain, with 29'910 relocating to Germany during 2012 alone - up 45% on 2011.
Following behind Germany, last year's key destinations for Emmigrating Spaniards were Italy (12,000); Greece (10,000) and Portugal (4,000).
Some 6,000 Spaniards relocated to the UK, where total numbers are now thought to stand at around 30'000 arrivals since 2008.
However, it is difficult to state final and exact number as many Spaniards have kept their official Residential status as being in Spain.
One anomaly that has not been answered by the INE is why so many Spaniards - who are suffering the effect of 27.2% unemployment at home - would choose to relocate to Greece with a 26.4% rate of unemployment, when the European average is 10.9% ?