Spanish Doctors perform pioneering life saving surgery on unborn baby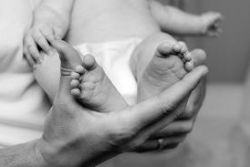 It has been reported how Spanish Doctors performed pioneering life-saving surgery on an unborn baby baby as it was strugging to stay alive in its mothers' womb.
Gonzalo Pardo Sanchez was suffering from congenital high airway obstruction syndrome (Chaos) – a rare condition which was preventing his lungs from expelling fluid through the trachea and causing his heart to fail.
The outcome seemed inevitable, until Doctors herd of a potentially life-saving procedure that was yet to prove successful – until now.
Although the procedure took place almost 1 year ago, the parents have had to wait until now to have confirmation that no physical or mental damage was sustained due to either the condition, or the subsequent procedure.
It makes it the world's first successful operation to remove an obstruction of the larynx from a foetus.
Gonzalo's parents, Maria Jose Sanchez and Francisco Pardo, from Almeria, told how doctors had initially advised them to have an abortion when they discovered their unborn baby was suffering from the rare condition.
The build up of fluid inside the foetus' body was compressing his heart and causing it to fail, until their doctor heard about a team at a Barcelona research hospital that had performed three operations in a bid to save unborn babies diagnosed with Chaos.
All 3 procedures had proved unsuccessful, but nonetheless it was a glimmer of light for Gonzalo's devastated parents.
After finding out about the technique the couple endured a 'difficult' and 'emotional' 7 day wait before Ms Sanchez went into surgery at the Fetal Medicine Centre Clinic Barcelona.
The team first manoeuvred the foetus into position inside the uterus – the most difficult part of the procedure – before 3 surgeons spent 22 minutes removing the membrane blocking Gonzalo's larynx.
Eduard Gratacos, head of the unit in Barcelona, explained surgeons were able to perforate the membrane 'quite easily', adding that getting access to the mother's uterus and in turn the baby's trachea was the part loaded with risk.
'One move a millimetre to the wrong side of the larynx could have caused serious problems,' he said.
In total the operation has been performed on 4 other occasions globally, but in each of those cases the babies either died or suffered brain damage or serious respiratory problems, according to a report in the Times.
After receiving Gonzalo's clean bill of health, his emotional parents have said they are looking forward to enjoying life with their 'fit and healthy' son.
Recommended Reading
• My Health Bowl : Spain Surgeons performed world's first succesful life-saving surgery on unborn child as it was dying in its mothers womb