Charity finds work for 3'000 "excluded" jobseekers in 2012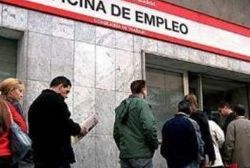 The Adecco Foundation offered 3,341 employment contracts to jobseekers struggling to find work last year, representing an increase of 20% on 2011. This number comprised 2'490 with some kind of disability, bringing a growth of 36% on 2011.
A report published by the recruitment agency's charitable foundation today said how "Although 2012 was a year marked by economic crisis, employment contracts for groups at risk of social exclusion have increased, reflecting a growing commitment on the part of businesses".
The Foundation's CEO, Francisco Mesonero, explained that "there will be a before and after the crisis in the inclusion of people with disabilities", and that "the few jobs being created are filled by workers from risk groups."
"The awareness and skills of candidates have won the battle and companies are intent on recruiting and comply with the Law on Integration of Disabled (Ley de Integración del Minusválido, LISMI)," he added.
Furthermore, other groups at risk of exclusion such as immigrants and the long-term unemployed also benefited from the uptrend, primarily due to increased public employment programs. Through these programs, 1,389 people have found work.
The report also revealed how 2012 saw a rise in unemployment for workers aged over 45 and women who are either single mothers or victims of domestic violence. Although Adecco found jobs for 488 workers over 45, this represents a fall of -27% compared to 2011. The decline was lower in the case of the latter category (-4.7%).
The study also found that, as unemployment roises "people increasingly turn to private employment agencies or associations for advice and guidance". In 2012 the Adecco Foundation provided advice to 13,456 people at risk of exclusion, +18% more than in 2011. Furthermore the Foundation helped as many as 1,879 businesses comply with the LISMI as well as implementing specific policy in the area of ​​diversity.
In an attempt to encourage more inclusive work environments, Adecco set up an internal corporate volunteering programme. "By volunteering, employees have the opportunity to interact with people with disabilities and to participate together in sports, environmental, educational and leisure. Thus, there is a symbiosis" according to Mesonero.