Higher Spanish Airport Taxes Drive up Easyjet Costs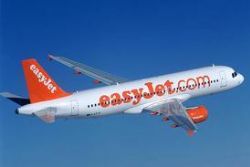 Easyjet, Europe's second-largest discount carrier, said it will deliver improved returns and profitability in the full year after a drive to secure more business travelers helped pare first-half losses.
Revenue per seat for the second half to Sept. 30 is likely to gain 4%, Luton, England-based EasyJet said today. The pretax loss for the six months ended March 31 was £61 million, versus £112 million a year earlier.
EasyJet is ramping up efforts to draw corporate passengers using allocated seating, flexible tickets and higher frequencies on routes linking business centers. The carrier lured 10 million corporate travelers in 2012 and plans to begin fast-tracking flexi-fare customers through security at 27 airports starting this month. The first-half result was lifted by holiday traffic to beach destinations in Spain and skiing hubs such as Geneva.
"Business travelers want frequent, punctual flights to leading airports," Chief Executive Officer Carolyn McCall said in a statement. "We want to give them other services that they truly value and which we can deliver without changing our simple efficient operations."
EasyJet boosted its load factor, a measure of occupancy levels, to 88.6% in the first half even as it increased capacity 3.3% to 30 million seats. About 50% of available seats have been sold for the summer period.
Fleet Growth
Higher airport charges, especially in Spain and Italy, will drive up cost per seat by about 4% in the second half, the carrier said.
EasyJet said it's in the "final stages" of a commercial evaluation of new jets to grow its fleet beyond 2017 and is also considering options for the 2015-2017 "bridging period." Ryanair, Europe's No.1 discount carrier, announced an order in March for 175 Boeing Co. 737-800s, and is considering a follow-on contract that could drive its fleet above 500 jets.
CEO McCall said in March that EasyJet, which operates a total of 211 Airbus SAS A320s and A319s, is evaluating the re-engined A320neo, as well as Boeing's 737 Max.
Founder and No. 1 shareholder Stelios Haji-Ioannou has been a vocal opponent of fleet expansion.