Corvera Airport falls out of love with Murcia Gov't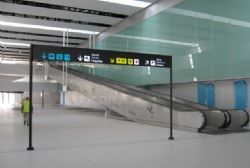 Aeromur - the concession holder of Corvera Airport - has filed 2 appeals against the regional government of Murcia, by rejecting the conditions of the €197.2 million loan repayments extended to the consortium by the government.
Both legal appeals were filed in the High Court of Murcia in March and April.
Aeromur - of which Sacyr is the 60% shareholder - is appealing due to the fact that certain administrative procedures are still to be completed, through no fault of the concessionaires.
It is understood that a clear and concise legal agreement, leading to a speedy repayment of the loan was a condition of the loan being made by the banks. These banks actually blocked funds in November last year, leaving Aeromur with insufficient funds to complete the project, which is where the regional government stepped in with their loan guarantee.
The agreement between Aeromur and the regional government was such that repayments of the loan would commence as soon as Corvera Airport was in a financially stable position to do so.
The issue is further compounded by the fact that the airport has been unable to open due to licensing complications and the failure to move operations from neighbouring San Javier airport - despite construction being complete for many months.
Speculation has been abound that the regional government has been slow to formalise the agreement with Aeromur as they did not have the backing of the Ministry of Public Works and had therefore tried to seek a way to distance themselves from the loan guarantee.
For their part, the regional government is claiming that Aeromur have breached their contract.
Due in part to the project looking less economically attractive than it did in 2007, the concession holders are thought to believe that now is not the time to open the facility, whilst the regional government is keen to recover whatever funds they can.
Costs have further escalated due to a number of new regulations being imposed by the Spanish Aviation Safety Agency (EASA) since the start of the project - none of which had been covered in any contingency.
Problems were highlighted in July of last year, with Aeromur missing its self-imposed deadline for opening - and therefore "defaulting"on the expected dates for when repayments would commence.
A revised date of opening of September 28th was then suggested - and missed.
A further date of January 16th was also proposed - and still missed.
If one thing is evident now it is this : nothing is clear.
Recommended Reading
• Corvera Airport : Will San Javier Ever Close ?
• AENA v Corvera Airport
• San Javier Airport WILL close for Corvera : Valcarcel
• Alicante Airport : Two fingers up to Corvera ?