EU "Funds Bullfighting in Spain" Claim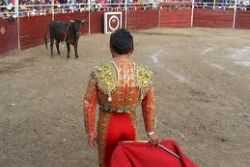 The European commission has been urged to act over claims that EU funds are being used to "support the brutal tradition" of bullfighting in Spain.
It is claimed millions of euros of common agricultural policy (CAP) funds are being "diverted" to help promote the "dying" tradition.
The funds, it is alleged, go to organisers of bullfights and also for the breeding and rearing of bulls used only for bullfighting.
The claims were made by Spanish Green Party deputy Raόl Romeva i Rueda at a news conference in parliament on Wednesday.
He said, "This is a brutal 'sport' which no longer commands the support of most people in Spain. It is a dying tradition which would completely fade away but for the EU 'subsidies' it is currently receiving."
A report by Spanish MP Alfred Bosch said that funds from 'pillar one' of the CAP had been used to for the specific purpose of supporting bullfighting in his country.
This went, he said, to promoting fights, paying TV rights to broadcast the shows and other costs.
Spain accounts for about 13.5% of the CAP and, while subsidies have been in slight decline, in 2010 it still received €5.16m.
The report by Bosch said that the cost of staging a bullfight varies but ranges from €60,000 for "third class" fiestas to "10 times" that figure.
The average payment to a matador is about €30,000, he said, but star bullfighters can command up to €500,000 per session.
"There is no doubt that bullfighting is heavily subsidised both by funds from the Spanish administrations and by European funds," he said.
"Without such backing this recreational activity which at best can be described as a morally shaky, would probably be on the brink of financial collapse and unable to subsist."
He said, "The public has a right to know where and how EU funds are being used and that CAP funds are partly being diverted to support this brutal activity."
Romeva i Rueda said campaigners had recently written to EU agriculture commissioner Dacian Ciolos calling for a crackdown on the alleged use of public funds for bullfighting.
The deputy said, "When I have raised this in the past the commission merely says it is an internal issue and has 'nothing to do with them'.
"The commission needs to take stock of this report and put an immediate stop to EU agricultural funding being used to subsidise bullfighting."
He also said that member states which allow CAP subsidies for "questionable reasons", such as bullfighting, should face financial sanctions.
"We also call on MEPs, citizens and others to support our campaign."
Recommended Reading
• Greens claim CAP funds are used to 'support' bullfighting in Spain
•
Where's the Beef ?
•
Youtube Pulls Spanish Bullfighting Clips
•
13'000 Bulls Killed in Spain for Sport each year