Italy debt to outperform Spain as political, rating risk ebb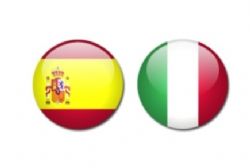 Italian bonds are set to fare better than Spanish debt in coming months as concern about a damaging power vacuum in Rome ebbs and the risk of a credit rating cut looms larger for Spain.
A marked underperformance by Spain relative to Italy as the prospect of ECB bond-buying backstop drives yield convergence among euro zone sovereigns shows investors still see Spain as the more likely to rekindle the region's debt crisis.
The premium investors demand to hold 10-year Spanish bonds rather than Italy's has risen to 30 basis points since a new centre-left coalition government took over in Rome, from a low of 16 bps hit in March.
"Italy should now stabilise and outperform Spain because the political risk is reduced...My expectation is we could go back to 60 basis points in (the 10-year yield) spread," said Alessandro Giansanti, a strategist at ING in Amsterdam.
SPANISH RISKS
Italy and Spain, the euro zone's 3rd and 4th largest economies, are potential flashpoints in the euro zone debt crisis though risks of a blowout have been minimised since the ECB pledged to save the euro last July.
Even though ultra-easy central bank policies are luring yield-hungry investors back to the euro zone's periphery, they are more likely to favour Italy's debt market over Spain's because it offers greater liquidity and a higher credit rating.
Moody's, seen as the most aggressive of the 3 ratings agencies, affirmed Italy's Baa2 rating after Enrico Letta's administration took office. That eased concerns that it could be downgraded to just above or even into "junk" - a move that could have prompted forced selling by index-tracking funds.
Spain is rated one notch above junk by Moody's with a negative outlook that has been in place since last October.
A surprise Moody's cut of Slovenia's rating by 2 notches to junk 2 weeks ago has increased the risk of similar treatment for Spain, which is struggling with an over-extended banking system, regional debt and one of the highest unemployment rates in the euro zone, some analysts said.
"That's quite a big risk because the Spanish bond market is quite big and there has been a lot of interest in it so far this year, and a ratings downgrade would cause quite a bit of setback," said Sandra Holdsworth, investment manager at Kames Capital, who manages some £400 million of bonds.
"That's why I prefer Italy marginally to Spain - because the risk of a downside is greater in Spain as Italy has a slightly higher rating to start off with, so they are unlikely to fall out of investment grade."
Bank of America-Merrill Lynch said there was a high probability of Spain being downgraded in the second half of the year.
The threat of a ratings downgrade also makes some investors cautious about the outlook for Spain's funding needs for the latter part of the year if sentiment turns sour.
Rome has raised about 65% of this year's expected issuance of €186 billion while Spain has met just over half its €121 billion target, according to Reuters data.
While foreign investor demand has stabilised in both cases, the more diverse domestic market in Italy has more potential to absorb longer-term supply than Spain, strategists said. The latter is dominated by banks, which usually buy shorter-dated paper, they said.
"I'm still cautious on Spain because, when we look at the outlook for both supply and demand, Italy looks better," said Patrick Jacq, a strategist at BNP Paribas.