Hunt for those at fault for Spain's bank crisis gains pace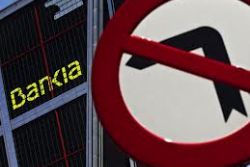 The arrest of a prominent former Spanish banker is raising hopes among campaigners that the hunt for those responsible for the problems inherited by Bankia and other failed lenders will deliver results.
As Spaniards struggle with a deep recession, judges have shown a growing determination to go after top executives and public figures linked to bank failures that led to a €41 billion European bailout.
Miguel Blesa, former head of Caja Madrid, was arrested on Thursday and held in jail overnight, the most dramatic step yet in a series of probes into what went wrong at many of the country's banks.
"We're going to see more of this," said University of Barcelona law professor Joan Josep Queralt. "It will spark even more lawsuits and encourage those that are already out there."
While corruption scandals involving politicians and even the royal family mount in Spain, dozens of bankers have been charged with alleged fraud, embezzlement and other crimes at banks that have disappeared or been rescued by the state.
None has yet been put on trial.
Caja Madrid and 6 other savings banks were folded together in 2010 to form Bankia which had to be rescued with €24.5 billion in state funds last year - a bailout that led Spain to request European funds for its ailing banks.
Hundreds of thousands of small investors lost their money when Bankia was rescued in mid-2012 just a year after listing on the Madrid Stock Exchange, principally because it could not cope with rotten real estate assets on its books.
But the allegations against Blesa - ordered to jail pending bail, as judges investigate accusations that he mishandled Caja Madrid's 2008 acquisition of a bank in Florida - point to possible problems going further back.
Examining Magistrate Jose Silva Pacheco said in a ruling there was evidence that Blesa had possibly committed crimes of improper management, misappropriation of funds and falsifying a public document.
"The behaviour of the accused could have directly caused severe economic damages for the entity he chaired," the magistrate wrote in his ruling.
The ruling said Caja Madrid failed to adequately analyse the risks of the bank it bought, and that it overpaid for City National Bank (CNB) of Florida, causing implied losses of at least €500 million.
Caja Madrid paid €723 million for 83% of CNB in 2008, not long after the start of the U.S. subprime mortgage crisis.
This was far more than rival Spanish lenders had paid for other banks in Florida in the same period, the magistrate noted.
A lawyer for Blesa did not respond to requests for comment. Magistrate Silva said that Blesa, in a written declaration to the court, had explained that Caja Madrid had paid that much because it was purchasing a bigger and more profitable bank.
But Silva added there were still questions over why Caja Madrid had bought CNB at such a stormy time in markets.
WATERSHED MOMENT ?
Bankia is currently trying to auction off CNB, and a spokesman said the Blesa case would not prevent that from going ahead. Sources have told Reuters that Bankia had been hoping to bank up to €780 million from the sale, but that it is more likely to get €468 million to €625 million.
Blesa, a friend of former PM Jose Maria Aznar, of the People's Party (PP) now in government, is the first well-known Spanish banker to spend time behind bars in 2 decades.
Blesa, deemed "a clear flight risk" by the magistrate, spent Thursday night in a high-security Madrid jail but was seen on television leaving on Friday afternoon after posting bail.
Manos Limpias, the anti-corruption activist group that filed a criminal complaint against Blesa and requested his detention, described the magistrate's ruling as a watershed moment. "I hope that if we are brave enough to pursue legal cases, (this case) will mark a before and an after," said Luis Pineda Salido, a lawyer and chairman of Ausbanc, a consumer rights group that is working with Manos Limpias.
Blesa was ousted from Caja Madrid during a PP power struggle and in early 2010 was replaced by Rodrigo Rato - a former PP economy minister who is now also under investigation. Rato has been accused along with 32 other Bankia directors of fraud, price-fixing and falsifying accounts, in connection to the stock market listing of the bank.
The Bankia case could take at least another year to go to trial, if it does at all, 2 lawyers working on the case said.