Changes to Spain's Education System Approved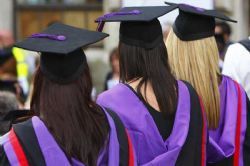 On Friday the Cabinet approved a controversial education bill that is being strongly criticized by other political parties and a significant number of educators.
The Partido Poular has introduced a few changes to its initial draft to try to accommodate objections raised by the State Council.
For instance, both religion class and its alternative, cultural and social values, will count towards a high-school student's average grade, a determining factor in obtaining scholarships.
"What this measure seeks is to stop children from dropping religion class. They [the government] think that by making it count towards the average, they'll stop the drain," says Fernando Delgado, president of the secular association Europa Laica.
The bill also stipulates that the central government will advance money to private schools that accept students who cannot find enough classes in the Spanish language at public schools. This measure is tailor-made for Catalonia, where some families have complained about being forced to send their children to Catalan-only classes. What is more, the money will come out of Catalonia's coffers, since Madrid will simply withhold the amount from routine budget transfers.
This has already drawn criticism from Catalan government officials. Education Commissioner Irene Rigau said on Friday that "this is not an education law, this is a recentralizing law."