Regional debt falls in Q1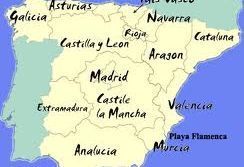 Spain's public administrations ended Q1 of 2013 with a deficit in their finances of €14.896 billion in national accounting terms, equivalent to a shortfall of 1.41% of GDP, according to figures released Thursday by the Finance Ministry.
The figures do not include the country's local corporations. The shortfall in the central government's books was €16.071 billion, or 1.53% of GDP, and that of the regions €1.235 billion, equivalent to 0.12% of GDP. The Social Security system booked a surplus of €2.410 billion, or 0.23% of GDP, although the ministry pointed out that the calendar for monthly payments and collections is different this year.
The release of the figures for the regions took place amid controversy about what some regional premiers of the ruling Popular Party claimed was the preferential treatment afforded to Catalonia this year in terms of its deficit with PM Mariano Rajoy's government apparently accepting a target of 2.0% of GDP, compared with 1.2% for the regions as a whole.
There were complaints that Catalonia had been given such treatment because of the self-rule agenda of premier Artur Mas's regional government.
The secretary of state for the budget, Marta Fernández Currás, described the performance of the regions in the first three months of the year as "satisfactory." The regions booked a combined deficit last year of 1.73% of GDP, compared with a target of 1.5%.
Fernández Currás said there is a very competent working group within the Fiscal and Financial Policy Committee, which groups together the central government and the regions, which is working on the consolidation of the structural deficit based on "objective criteria," which does not take into account the economic cycle.
"There is no other option as regards this," Currás said. "In the end run we all have to meet the commitment of the Kingdom of Spain and the [regions] that are farthest away from this will have to make a bigger effort, and a consensus will have to emerge along those lines."
Spain's deficit target for this year is 6.3% of GDP, down from 7.0% in 2012, excluding the EU bailout loan for the country's banks that pushes the latter figure to 10.6% of GDP.
In recognition of the fact the Spanish economy has slipped back into recession for the 2nd time in barely 4 years, Brussels has given Spain 2 more years to bring its public deficit back within the EU ceiling of 3.0% of GDP.