Second offer to buy Castellon Airport "Not Economically Viable"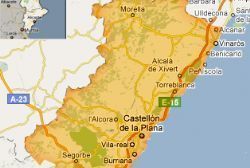 Jose Cisca - the Vice President and Spokesman for the Generalitat Valenciana, and president of Castellon Airport - confirmed yesterday how Aerocas had recieved a second offer to purchase the facility.
Aerocas - the concession holder of Castellon Airport - is 99% owned by the regional government.
However, Ciscar said how the offer from a Danish consortium, which was confirmed by the regional Minister of Economy, Max Buch, yesterday "has been on the table for a while, and still not crystallised", as it is not "economicall viable".
He also confirmed that the Airport will only open once it has the required number of flights to sustain it economically.
Read all the latest Castellon Airport news by clicking the link >> HERE <<.