Spanish Court Convicts 22 Riot Police Officers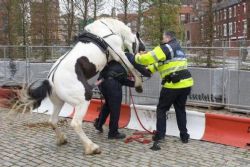 A Spanish court has charged a number of riot police officers following an investigation into accusations that they seriously injured a man when they fired rubber bullets at protesters in Barcelona.
The Judge has convicted the 22 officers on charges of grievous bodily harm, who were deemed to have been responsible for the injured man having to have his arm amputated following the demonstrations of March 29, 2012.
Five other protestors were hospitalised following the police action, 2 of who lost and eye, 2 for arm injuries and one for chest injuries.
The case echoes yet another case against Barcelona's force for using excessive force at demonstrations, when a further protestor lost an eye on November 14th 2012.
Police guidelines state that riot officers are not permitted to fire directly at protestors due to the damage that such rubber bullets can cause, however surveillance footage of the event has shown how a number of offices were firing directly at certain members of the crowd.