Corvera Will Not Cost Murcia One Euro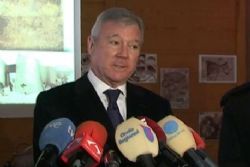 Adamant that Corvera Airport is a private project and not a state or regional funded opportunity, Murcia President Ramón Luis Valcárcel has declared the project will not cost the region "One Euro".
His comment was made earlier today whilst presiding over a bi-centenary celebration of another regional company.
When quizzed over the Corvera saga, he said the operating company behind the airport "wants to compromise money under losses" adding that the regional community of Murcia "is not going to do so".
The autonomous community of Murcia has guaranteed loans of more than €200 million to the consortium constructing the airport. Having failed to achieve any of the opening deadlines promised, the consortium is now under pressure to repay loans.
Four of the seven companies which make up the consortium have pulled out of the project which desperately needs a cash injection to remain viable.
Valcárcel added that Corvera International Airport "is almost complete in terms of its processing to open, and demand that they open because we have done our part."
However, Corvera Airport maintains it is still unable to open whilst it waits for AENA, the Spanish Aviation Authority, to finalise flight paths and produce a flight transfer schedule from San Javier to Corvera.
To add insult to injury, San Javier's new airport manager is seeking to introduce flights from San Javier to the north of Spain. Additionally, flights to San Javier Airport are still available to buy from flight and tour operators who fly there.