A Bar for Every 132 Spaniards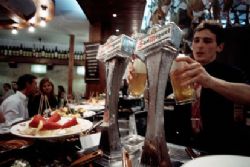 A recent study has revealed on average there is ONE bar for EVERY 132 people resident in Spain.
The study, commissioned by Coca Cola, also reveals that the Spanish bar & tapas/client relationship is strong and very much still a part of the culture despite falling sales and closures.
Since 2008, more than 50,000 bars and restaurants have closed according to the Spanish Hotel and Restaurant Federation.
The sector has seen sales drop more than 22% and over 75,000 are estimated to have been made unemployed.
The survey claims the regions of La Rioja and Extremadura have the most bars with an average of 142 and 124 people per bar respectively.
More than 2,000 people participated in the survey, which said two thirds of Spaniards claim to know the name of the waiter in their favourite bar and 30% said that they would trust them enough to give them their house keys.
Several said they see their local bar as a symbol of Spanish culture where more than a third visits several times a week and a hardcore 5% visit several times a day.
Andalucía and the Basque Country came out on top of the tapas table. The regions were hailed as having the best quality bar snacks by 37% of people surveyed, while the most generous portions were said to be found in Madrid and Galicia.
The incredible results made national news and held a featured spot on "Telecinco Noticias" earlier this afternoon.